THE PREFERRED DIGITAL SOLUTION
The

n°1

choice of brokers
Penbox was voted by Belgian brokers as their

preferred digital solution

at the Vivium Digital Awards 2022.
Penbox makes your life and your customers' one simpler by getting rid of unnecessary complex ping-pong e-mails and files exchanges.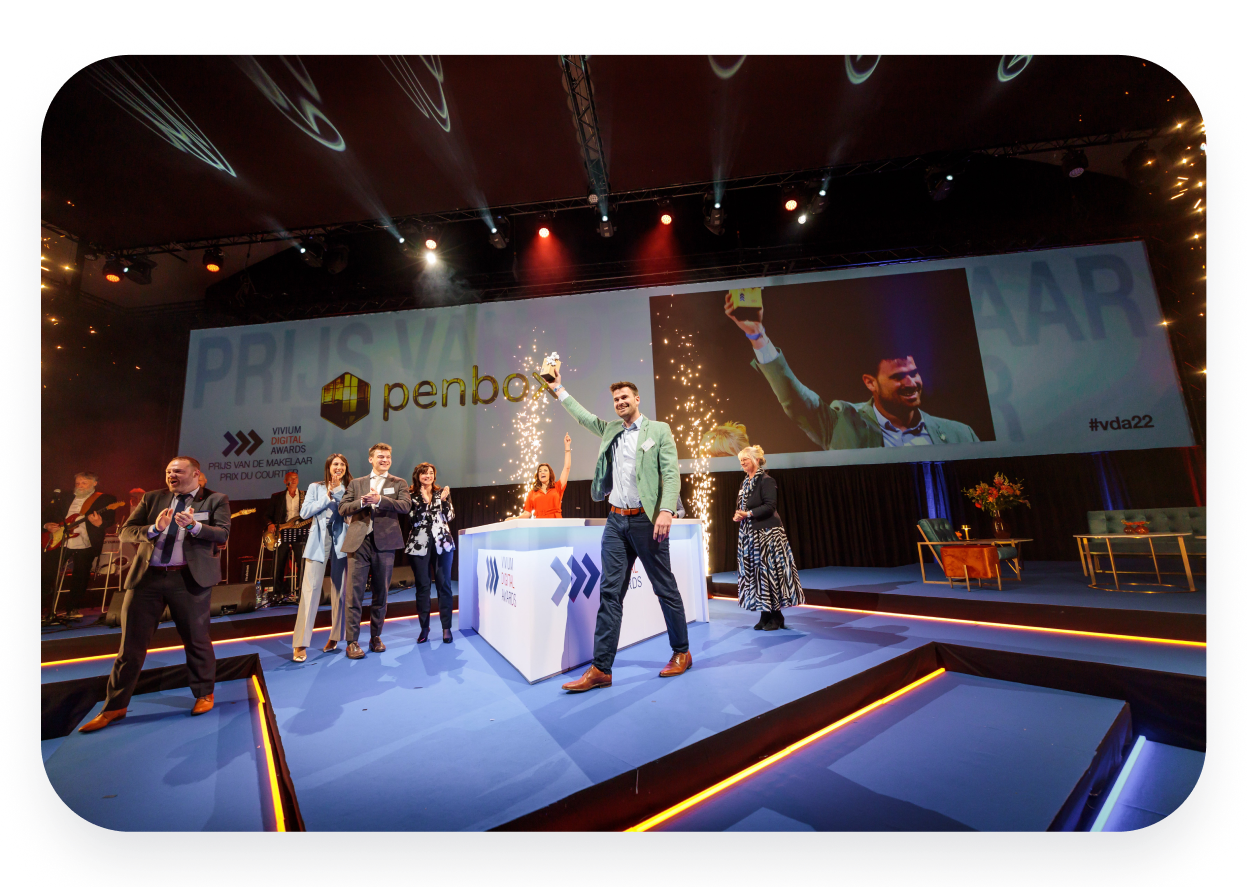 Penbox is for brokers who believe that every interaction is an opportunity to make a positive impact.
We call them
super
brokers
Discover below their stories.
"Thinking Penbox is above all thinking about your customers. They don't have to open e-mails, upload documents, look up the e-mail addresses and so on. Now customers can just do all of this via a magic link that they receive via their preferred channel."
"Impacted by the floods of July, we used Penbox to help us organize 100+ claims. Today, 80% of our claims are managed via Penbox. It was easy to set-up! Now we have great feedback from our customers, telling us Penbox is way easier than existing solutions like sending emails or delivering USB keys to our office."
"Penbox is the ideal complementary tool to my BMS. It offers you so many possibilities ! I'm a fan of the mass update campaigns with commercial questions. The tool helps me day in and day out. Finally I stop wasting my time manually entering information into a system for administrative tasks with no added value."
YOU ARE IN GOOD COMPANY
Trusted by more than +350 brokers
Are you a
super
broker?
Discover what you can achieve with Penbox.
INTEGRATED IN YOUR TOOLS
Sync your data with your BMS
From now on, your customer database is always fully up-to-date.
Thanks to the integration of Penbox in BRIO , you can easily enrich your database with the missing information of your customers. Import data from BRIO directly into Penbox and export it from Penbox to BRIO in one click.
Results:
Better knowledge of your customers
Better usage of data
Tailor-made service
Higher productivity
Not a BRIO user? No problem!
Penbox is also compatible with Outlook and many more tools like OpenBroker (Insurgate).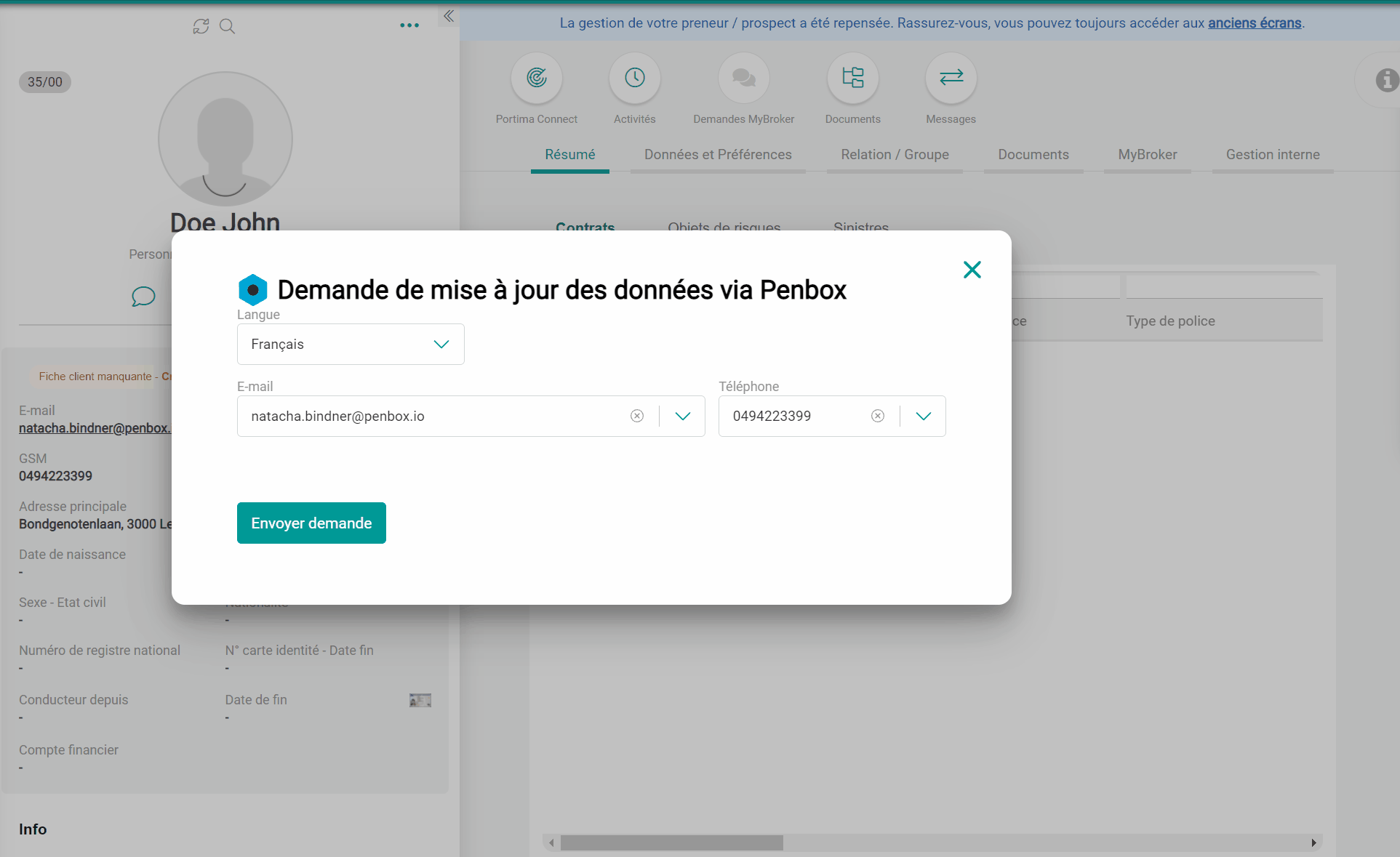 Powerful Interactions with your clients, every day
Your customers can easily upload documents, provide information and even sign multiple documents at once via a simple form.
Penbox makes it easy to exchange data and documents between you and your customers.
Meeting Preparation
Get ready for your client's meeting by having all the relevant data in advance, so you can ask the right questions and have more time for advice.
New Prospect
You have only one chance to make a first good impression. Make sure the first digital experience with you is perfect.
Update your Client's Data
Always get your customer's information up to date, so you can provide them with the best advice possible and propose them the best coverage.
Documents Collection
Never miss a document again! Ensure your client provides you easily with all the relevant documents at once, in just few clicks.
Claims Management
Save time on paperwork so you can support your client better in those difficult times. Now available for Fire and Car claims.
Signature of Documents
Provide the simplest experience for your customer to sign online multiple documents, now as legal as your paper signature !
Price Offer
Collect all necessary information to make a price offer for fire or car insurance and get the data integrated in tarification tools !
And many more...
We help you create your own forms. We already built forms for yacht, oldtimers, motorbikes, investor profiles, life insurance, 80% rules...
Achieve more with Penbox
Read below some stories of customers and webinairs
CUSTOMER STORY
Generate 15% commercial opportunities.
Use update campaigns to update your entire customer database in order to be compliant.

Gain deeper insights into the current situation of existing customers. Develop your portfolio with more complete and up-to-date information for prospecting campaigns! Get ahead of your commercial goals.
Find out how to generate 15% more commercial opportunities within your portfolio.
READ MORE
CUSTOMER STORY
Add value to your portfolio and identify freelancers
Update customer data in a client portfolio in order to increase the coverage rate.
READ MORE
MOBILE-FIRST EXPERIENCE
High-end customer experience
Your customers can fill out intelligent forms directly from their smartphone and can easily add or change their details.
Thanks to a unique and secured link, the customer data is automatically saved.
No application needs to be downloaded, neither by your customers nor by you.
Easy, right?